The White House - Mark Your Visit at a Washington, DC Landmark!
Located at 1600 Pennsylvania Avenue NW in Washington, DC, the White House is the official home and principal workplace of the President of the United States of America and the president's administration. Owned by the National Park Service and part of President's Park, the White House is the most cherished icon of American democracy.
White House Overview.
The White House in Washington, DC is a complex of three buildings with the original residence in the center housing the president's home and rooms for ceremonies and official entertaining. The White House includes 6 stories and 55,000 sq. ft. of floor space, 132 rooms and 35 bathrooms, 412 doors, 147 windows, 8 fireplaces, 8 staircases, 3 elevators, 5 chefs, a tennis court, bowling alley, movie theater, jogging track, swimming pool, and a putting green. Two colonnades, one on the east and the west designed by Jefferson, connect the residence to the West Wing and East Wing. The State Floor of the residence building includes the East Room, Green Room, Blue Room, Red Room, and State Dining Room. The third floor family residence includes the Yellow Oval Room, East and West Sitting Halls, the President's Dining Room, the Treaty Room, Lincoln Bedroom, and Queens Bedroom.
White House History.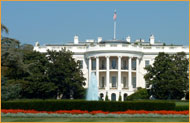 Situated in Washington, DC, the White House is built of white-painted Aquia sandstone in late Georgian style. Construction began with the laying of the cornerstone on October 13, 1792. While the White House remains a continuing symbol of American democracy, the house also reflects the nation's early involvement with the institution of slavery. A diary kept by the District of Columbia building commissioner records that the footings for the main residence were dug by slaves and the foundations built by slave labor. Much of the other work on the house was performed by non-citizen immigrants. The sandstone walls were erected by Scottish immigrants, as were the high relief rose and garland decorations above the north entrance and the "fish scale" pattern beneath the pediments of the window hoods. Much of the brick and plaster work was produced by Irish and Italian immigrants. The initial construction took place over a period of eight years, at a reported cost of $232,371.83 ($2.4 million in 2005 dollars). Although not yet completed, the White House was ready for occupancy on November 1, 1800.
White House Tours.
The White House in Washington, DC is one of the most popular tourist attractions in the United States, and hosts 5,000 visitors a day. White House Tours are available from 7:30 a.m. to 12:30 p.m. Tuesdays through Saturdays. The White House contains 132 rooms but only five of these (Blue Room, East Room, Green Room, Red Room, and State Dining Room) are open to the public. Advanced reservations are required and can be made by calling 202- 456-7041.