Guest must be at least 21 years old to check in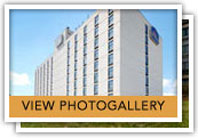 Woodbridge, Virginia Hotel - Delight in Dozens of DC Attractions!
Surround yourself in comfort at the Best Western Potomac Mills, featuring newly- decorated rooms, a conference facility, full breakfast buffet, and a host of contemporary features that make visiting the Washington, DC area a pleasure. Whether you're driving into Potomac Mills for leisurely shopping or traveling into DC on business, you'll enjoy convenient access to exciting attractions and national sites when staying at this convenient Woodbridge, Virginia hotel. Check out our video on YouTube
here
.

Top 5 Reasons to Stay
Newly decorated rooms with upscale amenities
Complimentary deluxe breakfast buffet daily
Elegant event facilities for meetings or private parties
Located minutes from Washington dc, Quantico Marine Base and Mount Vernon
Outdoor Pool
Washington, DC Area Location.
The Best Western Potomac Mills is located in Woodbridge, Virginia, within minutes of Washington, DC, and major monuments, museums, and attractions, such as the Potomac Mills Outlet Mall, the White House, Quantico Marine Corps Base, Prince William Park, Mount Vernon, and Arlington National Cemetery. You'll also enjoy close proximity to over 45 restaurants, great shopping, national parks, award-winning golf courses, and many historic landmarks. What's more, we're within walking distance of Hylton Memorial Chapel.
Woodbridge, Virginia Hotel Special Promotions
Stay Longer and Save
- Stay 3 nights and get the 4th night free! A deal you do not want to miss!


************************************

Shop and Stay
- Join us at the BEST WESTERN Potomac Mills and enjoy our Shop and Stay Package. We even give you a $20 American Express Card to help with your shopping. Relax in a large well appointed guest room and in the morning take pleasure in a delicious full breakfast.
Call 866-930-5982 or click here to

*******************************************
Dining Package- Best Western Potomac Mills invites you to be pampered like never before. Reserve our Great Rate & Meal package and you'll stay in one of our Executive Level suites with all the comforts of home, including deluxe bath amenities. You'll get a delicious "grab & go" breakfast that you can enjoy in the comfort of your suite or on the go. Plus, you'll receive a special $25.00 gift certificate to Outback Steak House all for the low price of $139.00 per room per night. An offer like this is only available for a limited time so call 866-930-5982 now to make your reservation. We want to see you in Virginia this summer! Package amenities include
Deluxe Executive Level accommodations with deluxe suite amenities
Daily "grab & go" breakfast
$25 dollar gift certificate to Outback Steak House
Onsite parking
Complimentary high-speed internet access throughout hotel
Complimentary use of fitness center
Complimentary use of business center
Valid until 12/31/14
Call 866-930-5982 now to make your reservation and mention promotion code WS09!

Woodbridge, Virginia Area Attractions
IKEA - 1 mile
Potomac Mills Outlet Mall - 1 mile
Quantico Marine Base - 15 miles
Golf Courses & Tennis Courts - 5 miles
Leesylvania State Park - 6 miles
Prince William Park - 9 miles
Mount Vernon (Home of George Washington) - 12 miles
George Mason University - 20 miles
Manassas Battlefield - 20 miles
Arlington National Cemetery - 23 miles
Washington National Zoo - 25 miles
White House & Us Capitol - 25 miles
Smithsonian Museums - 25 miles
Historic Fredericksburg - 30 miles
National Museum of the Marine Corps
Nearby Cities
Fairfax - 7 miles
Quantico, Alexandria & Springfield - 12 miles
Manassas - 15 miles
Arlington - 22 miles
Washington, DC - 24 miles
Baltimore - 65 miles
Richmond - 80 miles
Corporate & Military
Hylton Memorial Chapel (Christian Meeting Center) - .1 mile
Fort Belvoir Army Base - 7 miles
Potomac Hospital - 1 mile
General Dynamics - 2 miles
FBI Academy - 12 miles
Quantico Marine Base - 6 miles
Woodbridge, Virginia Area Transportation
Greyhound Bus Terminal - 5 miles
Alexandria Amtrak Train Station - 22 miles
Ronald Reagan National Airport - 25 miles
Washington Dulles International Airport - 35 miles
Baltimore Washington International Airport - 65 miles
Woodbridge, Virginia Hotel Accommodations.
Travelers to the Washington, DC area will enjoy comfortable, newly-decorated rooms and suites, featuring an array of lifestyle- enhancing amenities. All of our 172 spacious and well-appointed accommodations feature complimentary wireless high-speed internet, telephones with voicemail, free long-distance access, cable TV with premium channels, and many luxuries of home and office. Our Business Plus Rooms also include a well-lit oversized desk and a complimentary weekday newspaper.
Air Conditioning
Complimentary High-Speed Wireless Internet Access
Complimentary Newspapers
Cable Television
AM/FM Alarm Clock
Desk & Work Area
Hairdryer
Data ports
Iron & Ironing Board
Coffee/Tea Maker
Telephones with Voicemail
Complimentary Local Calls Under 30 Minutes
Complimentary Long Distance Access
Refrigerators & Microwaves (fee)
Wake-Up Calls
Cribs & Rollaway Beds Available
Electronic Locks
Suites Available
Private Key-Accessed Floors Available
Woodbridge, Virginia Hotel Services & Features.
Travelers to this outstanding Virginia hotel are greeted every morning with a complimentary deluxe continental breakfast. After your day of sightseeing or working, relax in the outdoor pool or work out in our fitness facility. Corporate guests will appreciate the hotel's meeting facilities, high-speed Internet access, and business center. For groups and cross-country travelers to the Washington, DC area, our hotel provides ample free parking for tour busses, RVs and vehicles.
From business meetings to social events, our Woodbridge, Virginia conference center hotel offers flexible meeting space for groups of 10 to 50. Our private executive boardroom, the Prince William Room, is the perfect setting for business functions or intimate social events. Our friendly, knowledgeable staff can customize any event with a variety of themes and options. Our close attention to detail ensures an enjoyable and successful function.
Complimentary Breakfast
Complimentary USA Today Newspaper
Complimentary High-Speed Internet Access
Outdoor Pool
Business Center (fax & photocopy services)
Meeting & Banquet Facilities (up to 50 guests)
Safe Deposit Box
Fitness Center
Multilingual Staff (Spanish & English)
Elevator & Interior Corridors
24-Hour Laundry Facility (Monday through Friday)
Dry Cleaning & Valet Service (Monday through Friday)
Free Car, Truck, Bus & RV Parking
Children 12 & Under Stay Free
100% Smoke-Free Hotel
Woodbridge, Virginia Hotel Guest Reviews
'I have stayed at the hotel in the past, but it's changed, and for the better. What a great bunch of people who work here. Janette checked us in and was so friendly. She answered all of our questions, gave us directions. The room was so nice and the free breakfast, was worth paying for if I had to-which I didn't of course.'
'I had a great experience at this hotel. I was extremely happy upon pulling into the property and seeing how nice the hotel was. From the outside to the inside, no complaints. The rooms were in great shape and the staff was so friendly and helpful. In the morning, the breakfast surprised me. It was wonderful. This hotel is a true value. I will come again.'
'I teach a high school class in Alaska, we were invited to the 2009 Inauguration, but we could not afford the travel, and lodging, a Lutheran church in Virginia did offer us the floor of their church to sleep on. The Best Western Hotel, in Potomac Mills Woodbridge read an article on us, and contacted us, they offered us a price we could afford, however I was skeptical at first when I heard the price, I thought the hotel was either a dump, or located in a bad part on town. When we looked up the hotel online, we were pleasantly surprised of what we saw, not too mention ever time we called the hotel, the staff was friendly ad courteous. We arrived late Sunday, and to our surprise, we were greeted by the manager, and his staff with a welcome reception, and there were arrival gifts placed in everyone of our rooms.'
'We stayed for three days, and every encounter we had with the staff for the entire stay was exceptional. I must mention that this 200 room hotel was sold out, and everyone we came in contact with during our stay had the same report: this hotel really knows how to take care of their guests, even when it's full with 600 kids.'
'Stayed here as a part of a school group trip. The hotel was clean and the accommodations are basic. The hotel staff was friendly.'
'The hotel provides a breakfast, which was decent. We were provided a hot breakfast (bacon, eggs, etc), however that may have been a part of our negotiated tour arrangements. There is an Outback Steakhouse across the street from the hotel, and they are open for dinner. I think the hotel is also close to mall, but I did not have access to a car. There is computer located in the lobby for personal use. We did not use the pool.'
'If you are looking for a clean place to lay your head and you are not looking for anything fancy, this hotel should suit your needs.'
'The hotel was clean and the service was very friendly. Breakfast we included in the rate and it was worth the value. I will stay at the Best Western Potomac Mills hotel again.'
'I stayed here the week July 23-28, 2007, on business. The hotel was nice and clean. I had a suite w/a king size bed, micro, mini fridge, 2 sinks, desk, etc. The hotel offered complimentary continental breakfast, which consisted of make your own waffles, hard boiled eggs, cereal, fresh fruit, yogurt, bagels, donuts, juices, etc. The front desk was always nice and helpful. The swimming pool was nice and had a lifeguard all the time. The hotel was close to all kinds of restaurants and fast food restaurants. Also, the major outlets are right next to this hotel. There are all kinds of stores/outlets (ex: Old Navy, J. Crew, Steve and Barry's, Sears, TJ Maxx, etc). They also had wireless Internet, which worked well in my room. Plenty of free parking. I would definitely recommend this hotel to business travelers or tourists.'
'Having traveled to Woodbridge, Virginia on many previous occasions, we were pleasantly surprised with the Best Western Potomac Mills. We had stayed at some of the other hotels in the area and when they were sold out, we gave the Best Western a call. The staff is so friendly and the hotel is absolutely beautiful. The free breakfast in the morning was great. My kids loved the "build your own" waffle bar. The rooms were spotless and the high-speed wireless access let me mix work with pleasure. The hotel is convenient to a huge mall, eateries and DC. I will definitely be returning to this hotel. Thanks, Best Western Potomac Mills. Keep up the great job!!!'
'We walked in with a coupon and spent 6 very happy nights on the 9th floor of this very well run hotel. The location is excellent for I 95, Potomac Mills and great dining opportunities. The hotel is kept spotlessly clean and the front desk staff was extremely helpful. There is plenty of parking and a lovely clean pool with a lifeguard on duty. The "upgraded" continental breakfast was very good. A selection of breakfast cereals, toast, bagels, fresh fruit salad, eggs, make your own waffles, fruit to take away, yoghurts - always topped up by the staff - and 24 hour a day coffee - really good value for money. We had a large room with 2 double beds - there were only 2 of us - and the room was kept spotlessly clean. We travelled to Springfield-Franconia for the Metro to Washington. There was always plenty of parking there and the Metro journey was effortless.'
'The hotel was very quiet during the week but Friday and Saturday nights were busy with coach loads of visitors. Peace returned once again on Sunday after breakfast.'
'Check out is at noon which was great for us as we had an evening flight home so we enjoyed some morning pool time before departure. We then travelled to Leesburg Premium Outlets - 17 miles from Dulles Airport just continue to the end of the road - and did some last minute shopping before returning the car and flying home. We would recommend this hotel and will definitely be back.'
'Recently spent 2 nights at this hotel. Very clean, comfortable with friendly and helpful staff. Close to IKEA and other shopping. We were given a great book of local coupons on check in with lots of bargains inside. Breakfast was nice with the usual basic continental breakfast choices. Yogurt and bananas (they only offered apples) would have been nice additions. Quiet location away from the busy-ness of Washington, DC. If going into Washington, the Springfield/Franconia Metro Station is fairly close for transit to save time and aggravation of constant traffic jams on I-95. Would stay here again.'
'We recently stayed at this hotel and were impressed overall. Our room was a King and seemed to be an upgrade as we had an odd little sitting area which was basically a loveseat. It was not very practical, though, as it was right when you walk into the room, before a hallway. There was no way to see the TV from the loveseat or even to talk to anyone inside the sleeping area.'
'The room itself was immaculately cleaned and had shampoo, lotion, razors, toothpaste, shaving cream, toothbrushes, combs, etc. Many nice little touches that we were nickel- and-dimed (more like dollared and five-dollared) for at much pricier hotels. The continental breakfast was very nice with pastries, juices, bagels, French toast, fresh fruit, and cereal. The hotel was very close to the outlet malls.'
'Our only complaint was that the hotel is completely non-smoking, which is great in theory, but in reality it left us with a room that smelled fairly strongly of old smoke. We could have complained, as the desk staff seemed helpful, but we liked our quiet, end location too much. Also, the parking area seems a little shady, but so does the entire area of Potomac Mills, so if you want to stay close, it's still a great option.'
Contact Us/Reservations.
When visiting the Washington, DC area, book your rooms and meeting facilities at the Best Western Potomac Mills, where a great location and value await you.