Guest must be at least 21 years old to check in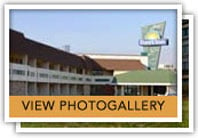 Arlington, Virginia Hotel - Enjoy Close Proximity to Crystal City & DC!
Convenient to Washington, DC, the Days Inn Arlington in Arlington, Virginia offers value accommodations for business and leisure travelers alike. Discover a wide array of amenities, including free shuttle to the Rosslyn Metro Station, onsite restaurant and lounge, and complimentary high-speed Internet access.

Top 5 Reasons to Stay
Located seconds to shops and restaurants of Arlington VA
Minutes from Washington dc attractions
Shuttle service to dc metro station
Complimentary breakfast buffet and wifi internet
Outdoor pool
Washington, DC Area Location.
Our extended-stay hotel is located within close proximity of Crystal City, Arlington, Virginia's vibrant downtown district, Old Town Alexandria, Arlington National Cemetery, Ballston Common Mall, and Clarendon, which offers unique shops and lots of dinning choices with a fun and friendly nightlife. Plus, we provide easy access to the attractions and historic landmarks of Washington, DC.
Special Promotion.
Spend the holidays in DC at a great price:
$79.00 per night from 12/19/13 to 1/05/14
.
Book now!
The Days Inn Arlington give you no reason not to spend the holidays doing something great!
Early Booking Rate: From now until December 31, 2014, enjoy the comfort and convenience of the Days Inn Arlington at an unbeatable price. Save 20% off your entire stay when you reserve your room 14 days prior to arrival. This rate also includes high-speed wireless Internet access, complimentary parking, and complimentary shuttle service to the Rosslyn Metro Station! With rates like this, there is no reason not to take your family on that much-needed vacation to the Washington, DC area. Click here to book now or call 866-869-8012 to make your reservation.
Arlington, Virginia Area Attractions
Old Town Alexandria- 8.6 miles
Arlington National Cemetery - 2 miles
Common Mall - 2.3 miles
Basilica of the National Shrine of Immaculate Conception - 9.5 miles
Bureau of Engraving and Printing - xx miles
Constitutional Hall - 3 miles
Crystal City - 3 miles
Washington, DC Convention Center - 4.6 miles
Fashion Center at Pentagon City - 2.5 miles
FedEx Field - 16.7 miles
Fort Myer - 5 miles
Georgetown - 5 miles
U.S. Holocaust Memorial Museum - 3 miles
Iwo Jima Marine Corps Memorial - 1.2 miles
Jefferson Memorial - 3 miles
Kennedy Center for the performing arts - 3.2 miles
Korean War Memorial - 3 miles
Library of Congress - 3 miles
Lincoln Memorial - 3 miles
MCI Center - 4.3 miles
Mount Vernon - 16.5 miles
National Air & Space Museum - 3 miles
National Archives - 5 miles
National Cathedral - 4.5 miles
National Gallery of Arts - 3 miles
National Zoo - 2.5 miles
Pentagon - 2 miles
RFK Stadium - 8 miles
Roosevelt Memorial - 3 miles
Smithsonian Institute - 4 miles
Stephen F. Ulder Hazy Center - 3 miles
U.S. Capitol - 6.5 miles
Vietnam War Memorial - 2 miles
Washington Monument - 3 miles
White House - 3.5 miles
WWII Memorial - 2 miles
Nearby Cities
Clarendon - 1 mile
Rosslyn - .5 miles
Washington, DC - 4 miles
Arlington, Virginia Area Transportation
Metro Station - .75 miles
Union Station - 4 miles
Washington Dulles Airport - 25 miles
Arlington, Virginia Hotel Accommodations.
Enjoy an array of features in each one of our 128 spacious guestrooms, which include king, queens, double, and single beds.
High-Speed Internet Access
Cable TV with Premium channels
AM/FM Alarm Clock Radios
Hairdryer
Iron & Ironing Board
Complimentary Local Calls
Rollaway Beds
Daily Housekeeping Service
Arlington, Virginia Hotel Services & Features.
Our Arlington, Virginia hotel features an onsite restaurant, Rudy's Bar and Grill, serving delectable American cuisine. In addition, we offer a seasonal outdoor pool; complimentary guest passes to nearby Gold's Gym, and complimentary shuttle service to the Rosslyn Metro Station.
24-hour front desk
Outdoor swimming pool (seasonal)
Use of nearby fitness center (complimentary)
Onsite Restaurant & Lounge
Conference room(s)
Coffee in lobby
Self parking
Complimentary newspapers in lobby
Business services
Safe-deposit box (front desk)
Arlington, Virginia Hotel Restaurant.
Serving classic American meals for breakfast and dinner, Rudy's Bar and Grill is open every day. Breakfasts of all types can be enjoyed Monday through Friday from 6:30 a.m. to 10:30 a.m., and Saturday and Sunday from 7:00 a.m. to 11:00 a.m. Dinner, which ranges from spaghetti and fried shrimp to catfish and New York Strip Steak, is served Monday through Saturday from 6:00 p.m. to 9:30 p.m.