About the National Cherry Blossom Festival
Each year, the National Cherry Blossom Festival celebrates spring in Washington, DC, the gift of the cherry blossom trees, and the enduring friendship between the people of the United States and Japan. The Festival produces and coordinates daily events featuring diverse and creative programming promoting traditional and contemporary arts and culture, natural beauty, and community spirit. Events are primarily free and open to the public.
Pink Tie Party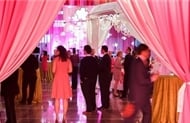 Date: March 19, 2015
Time: 7 – 11 PM
Location: Ronald Reagan Building and International Trade Center – 1300 Pennsylvania Avenue, NW
Tickets: Must purchase tickets in advance. Proceeds support Festival events and programs.
Auction: Donate an item and showcase your business at the Party.
Celebrate the blossoms in style during the ninth annual Festival fundraiser and the social event of spring! Wear your finest "Pink Tie" cocktail attire and enjoy a fabulous evening filled with delicious cuisine, cocktails, fashion, live music, dancing, and much more. The Auction Spectacular contributes to the Festival's fundraising efforts and features fashion, weekend getaways, concerts, sporting events, dining, and theater.
National Cherry Blossom Festival Opening Ceremony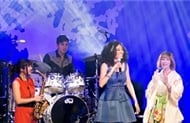 Date: March 21, 2015
Time: 5 – 6:30 PM
Location: The Warner Theatre – 513 13th Street, NW
Cost: FREE; Advance ticketing required.
Kick-off the 2015 National Cherry Blossom Festival and watch world-renowned performers as we welcome springtime to Washington, DC and celebrate the anniversary of the gift of trees from Japan to the United States. Enjoy spirited traditional and contemporary performances in the historic Warner Theatre.
The event is free and open to the public, however tickets are required. Walk-ins will be accepted at 4:45 PM on the day of the event if space is available due to no-shows – though there are no guarantees.


Family Day with the National Building Museum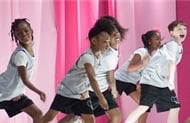 Date: March 21, 2015
Saturday: 9 AM – 5 PM
Location: National Building Museum – 401 F Street, NW
Cost: FREE
This annual family event for kids of all ages features hands-on activities, interactive art demonstrations, and exciting indoor performances that celebrate spring and explore Japanese arts and design. In 2015, Family Days will be held Saturday, March 21, and free family programming presented by the National Building Museum will continue on Saturdays during the Festival.
Step into Spring Fitness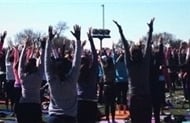 Date: March 21 – April 4, 2015
Time: 10 AM – 12 Noon
Location: Washington Monument grounds along 17th Street and Constitution Avenue
Cost: FREE


Join us for a workout with a stunning view! Get moving with free led group activities at the Washington Monument. Fitness classes take place Saturdays during the Festival: March 21, March 28, and April 4.
Blossom Kite Festival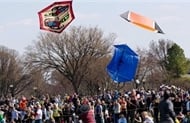 Date: March 28, 2015
Time: 10 AM – 4:30 PM
Location: Washington Monument grounds – Constitution Avenue & 17th Street, NW
Cost: FREE
The Blossom Kite Festival soars into spring and kicks off the kite flying season with five areas to explore and enjoy: the Competition & Demonstration Field, Family Field, Kite Club Display Area, Activity Tents, and Public Field. See the creativity of kite makers and skill of kite fliers from across the US and internationally through competitions and demonstrations – including the popular Hot Tricks Showdown and the Rokkaku Battle! Open kite flying is welcome on the Public Field. Bring your own kite, or children can make a kite to fly at an activity station (while supplies last).


Waterfront Firework Festival
Date: April 4, 2015
Time: 1 PM – 9 PM (Fireworks start at 8:30 PM) RAIN OR SHINE
Location: Southwest Waterfront – 600 Water Street, SW
Cost: FREE
Enjoy more than eight celebratory hours of free music, family friendly water-related activities, cultural experiences, live entertainment and delicious foods at multiple outdoor venues at the Southwest Waterfront.


National Cherry Blossom Festival Parade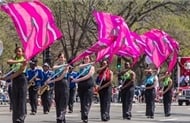 Date: April 11, 2015
Time: 10 AM – Noon
Location: Constitution Avenue – From 7th to 17th streets, NW
Cost: Starting at $20 for Grandstand Seating. Standing along the Parade route from Constitution Avenue between 9th and 15th streets, NW is FREE and open to the public. Arrive early for the best views.

Tickets: Individual (starting at $20) and Group tickets (10 or more)
One of DC's largest spectator events, the energy-filled Parade runs for 10 blocks along iconic Constitution Avenue. Giant colorful helium balloons, elaborate floats, marching bands from across the country, celebrity entertainers, and performers burst down the Parade route in a grand spectacle of music and showmanship seen only once a year during the Festival. The steps of the National Archives serve as an exciting performance backdrop, and vibrant costumes and blossom-inspired décor create the look of nation's premier springtime parade.