Fort Myer - Ton of Military History in Arlington, Virginia!
Encounter first-hand the history and institutions of Washington, DC at the Fort Myer Military Community, the garrison command including Fort Myer in Arlington, Virginia, and Fort Lesley J. McNair in Washington, D.C. and. Whether you work in the Pentagon or the White House, march in ceremonies hosted by senior military and civilian leaders or provide security for vital institutions, the policies formed at America's oldest military installation in the seat of government impact the nation's future. Forts Myer and McNair also provide support to active duty, reserve component, retired military personnel, Department of Defense civilians, and families stationed or living in the region. On your journey through Ft. Myer, you will embrace the spirit of Washington, DC's military heritage.
Fort Myer History.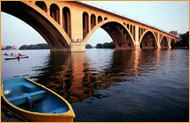 Situated in Arlington, Virginia, Fort Myer traces its origin as a military post to the Civil War. Since then it has been an important Signal Corps post, a showcase for Army cavalry and site of the first flight of an aircraft at a military installation as well as the first military air fatality. The acres encompassing Fort Myer and Arlington National Cemetery, originally called Arlington Heights, were owned in the 1800s by Mary Anna Randolph, granddaughter of George Washington Parke Custis. Most of the buildings at the north end of Fort Myer were built between 1895 and 1908, and those still standing are designated historic landmarks by the U.S. Department of the Interior and the state of Virginia. Built in 1899, Quarters One has been the home of Army chiefs of staff, including Generals George C. Marshall, Omar N. Bradley, Douglas MacArthur, and Dwight D. Eisenhower.
Famous Fort Myer Events.
The first military test flight of an aircraft was made from Fort Myer on September 9, 1908, when Orville Wright kept his planes in the air for one minute and 11 seconds. Defensive troops were stationed at Fort Myer during World War II, when it served as a processing station for soldiers entering and leaving the Army. The U.S. Army Band and the U.S. Army School of Music moved to the post in 1942, later joined by the U.S. Army Chorus. The Army's oldest infantry unit, the 3rd U.S. Infantry (The Old Guard) was reactivated in 1948 and assigned to Forts Myer and McNair to become the Army's official ceremonial unit and security force in the Washington, DC metropolitan area.